Behind the Theatrical Scenes
01.08.2018
Having been a costumer designer for more time than I care to admit (very well...this is my third decade), I forget that people are actually interested in what goes on behind the scenes of a production. However, the actors in my current piece have been sharing snaps on various media precisely because folk are taken by that glimpse behind the curtain....which got me thinking that perhaps I should share my process, such as it is, too.
First comes the textual analysis: reading the script once to enjoy the story, then again with highlighter in hand to mark any references to costume within the writing. Not just the obvious things like Malvolio's yellow cross-garters in "Twelfth Night", or Natasha's green belt in "Three Sisters", but passing hints in stage directions that someone needs a pocket from which to retrieve a letter, or an overcoat to hand to the butler. This list is often expanded during the rehearsal period as individual actors develop their character; recently the actor playing Constant, an inveterate dandy in "The Provok'd Wife", for instance, felt that wafting a lace handkerchief around at all times would be in order, whilst Lady Brute needed a fan with which to flirt in true rococo style.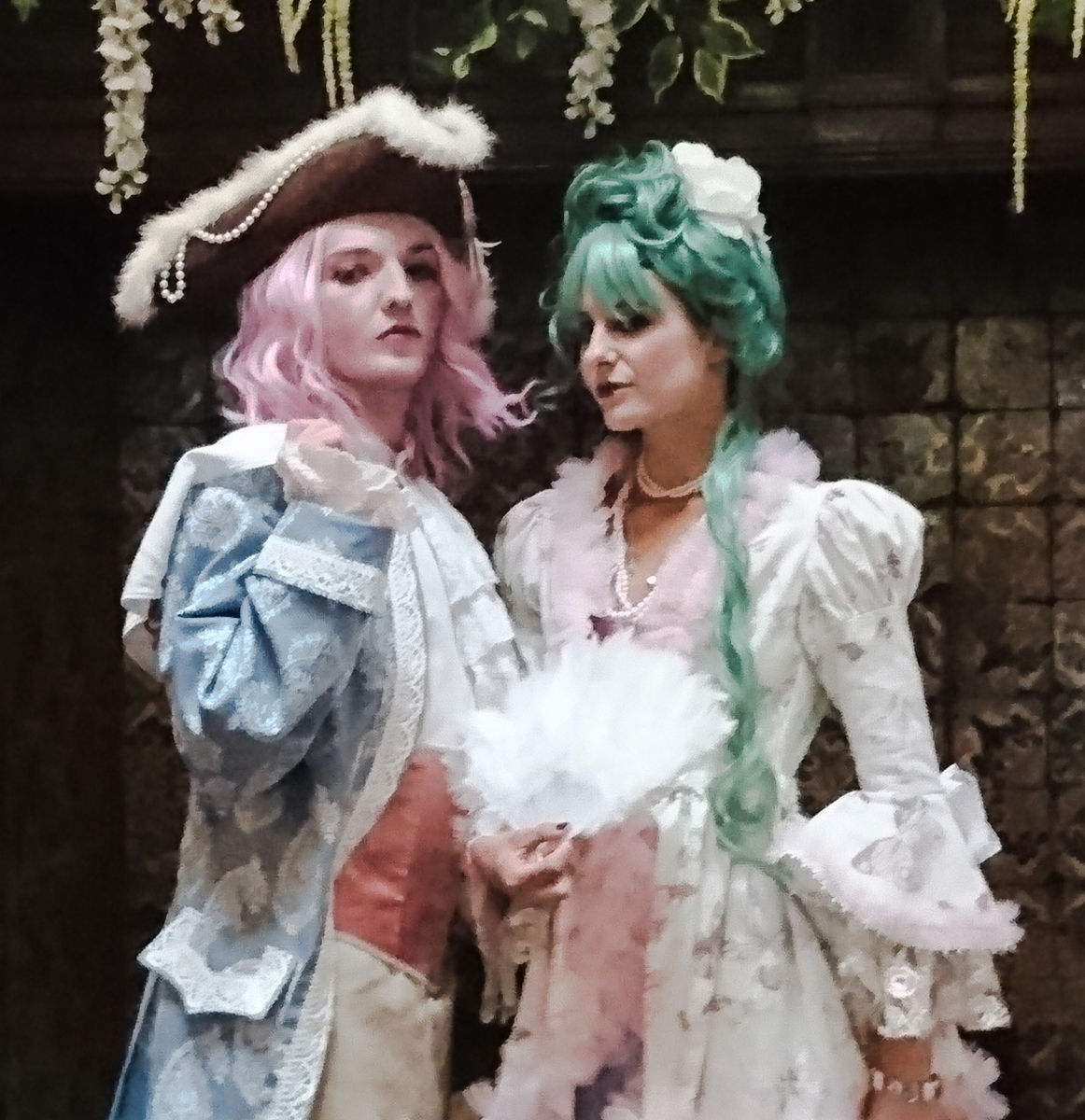 But back to the process... After that initial reading comes a chat with the director to get a feel for their vision. Some are very specific, with precise thoughts about period, colour etc, etc, whilst others have barely a clue about the visuals. My preference is for someone in the middle, with a general sense of what they want, but open to ideas. In the case of "The Provok'd Wife", for example, Briony initially wanted wigs made of paper "or something else unreal" to make a statement about the silliness of the whole set-up. After a bit of thought, I decided that paper wigs would never last through a two-week theatre run, but pastel-coloured Amadeus-style hair would send the same message...everyone was happy.
That conversation leads to the moodboard - one of my favourite things to do. An excuse to spend an afternoon trawling through my shelves of costume and art history books, Pinterest and Google Images! Hurrah! Then a quick Photoshop collage to send for directorial approval: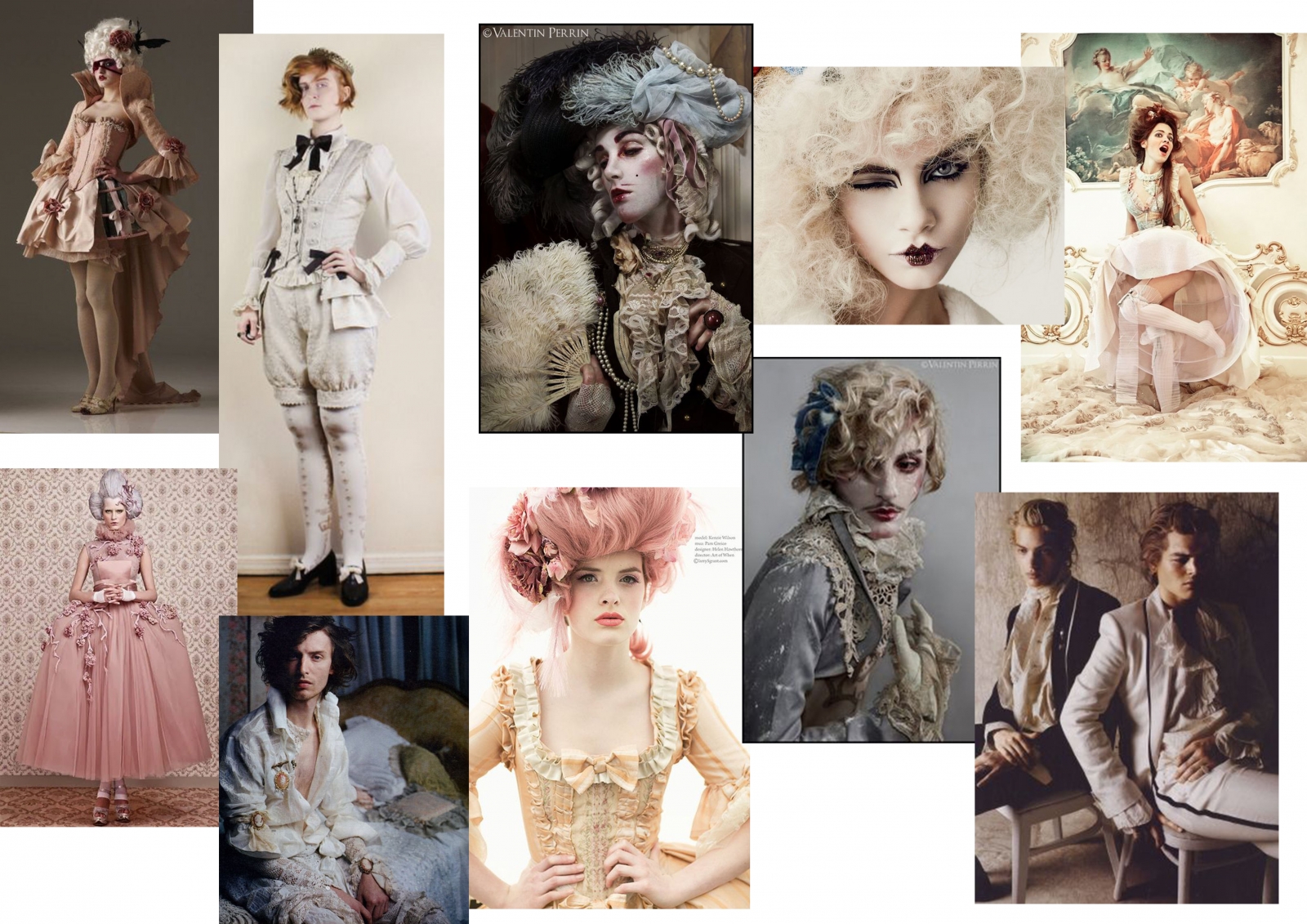 Above is "The Provok'd Wife" again, whilst here is "Heartbreak House":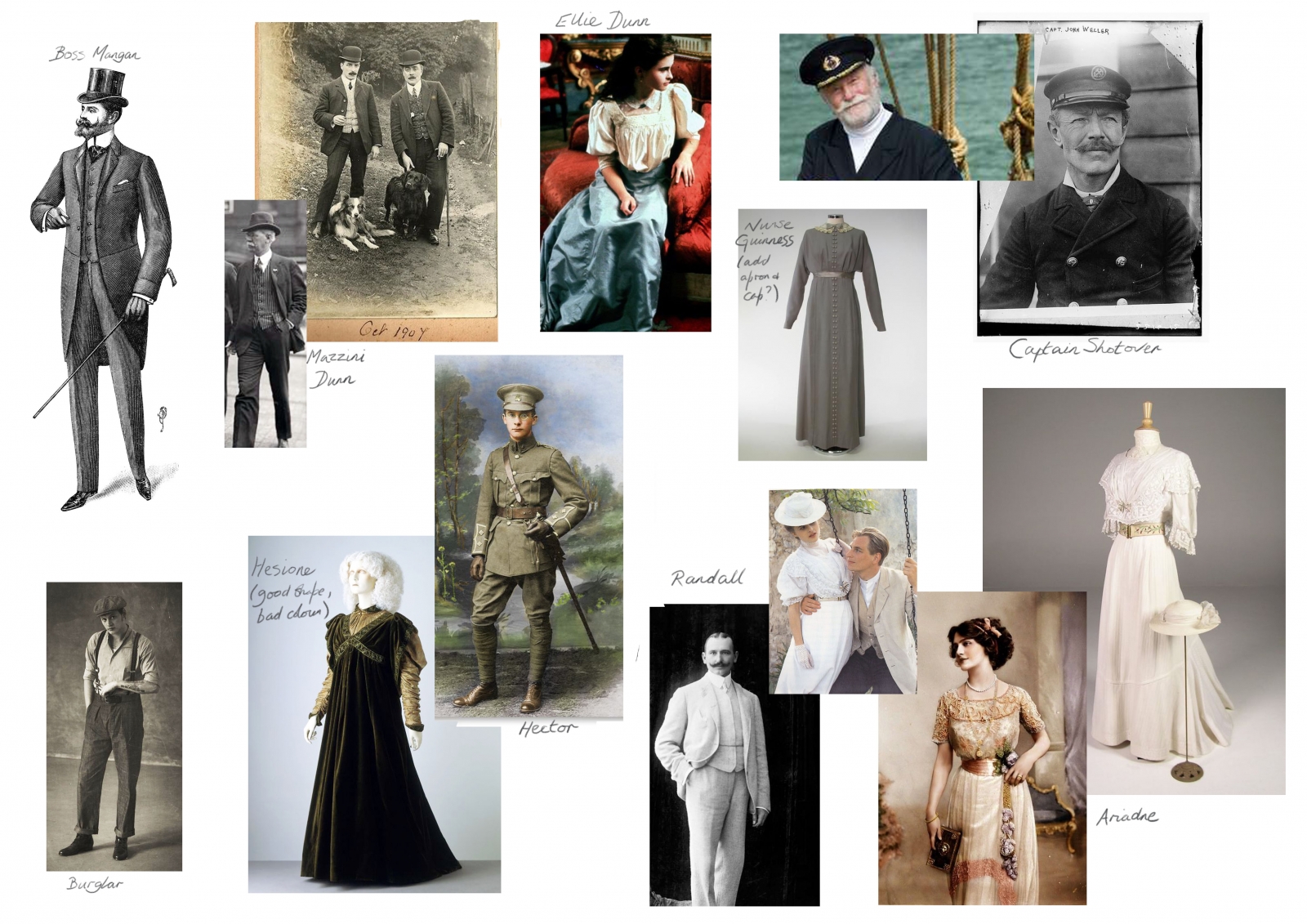 With notes duly taken, it's time to produce thumbnail sketches (rarely do I have time to create full-scale coloured renderings, to be honest - although I should love the luxury!) , then comes a combination of digging through my stock, shopping and sewing to fill the gaps. To give you an idea of the relation between idea and realisation, and the amount of sourcing that goes on -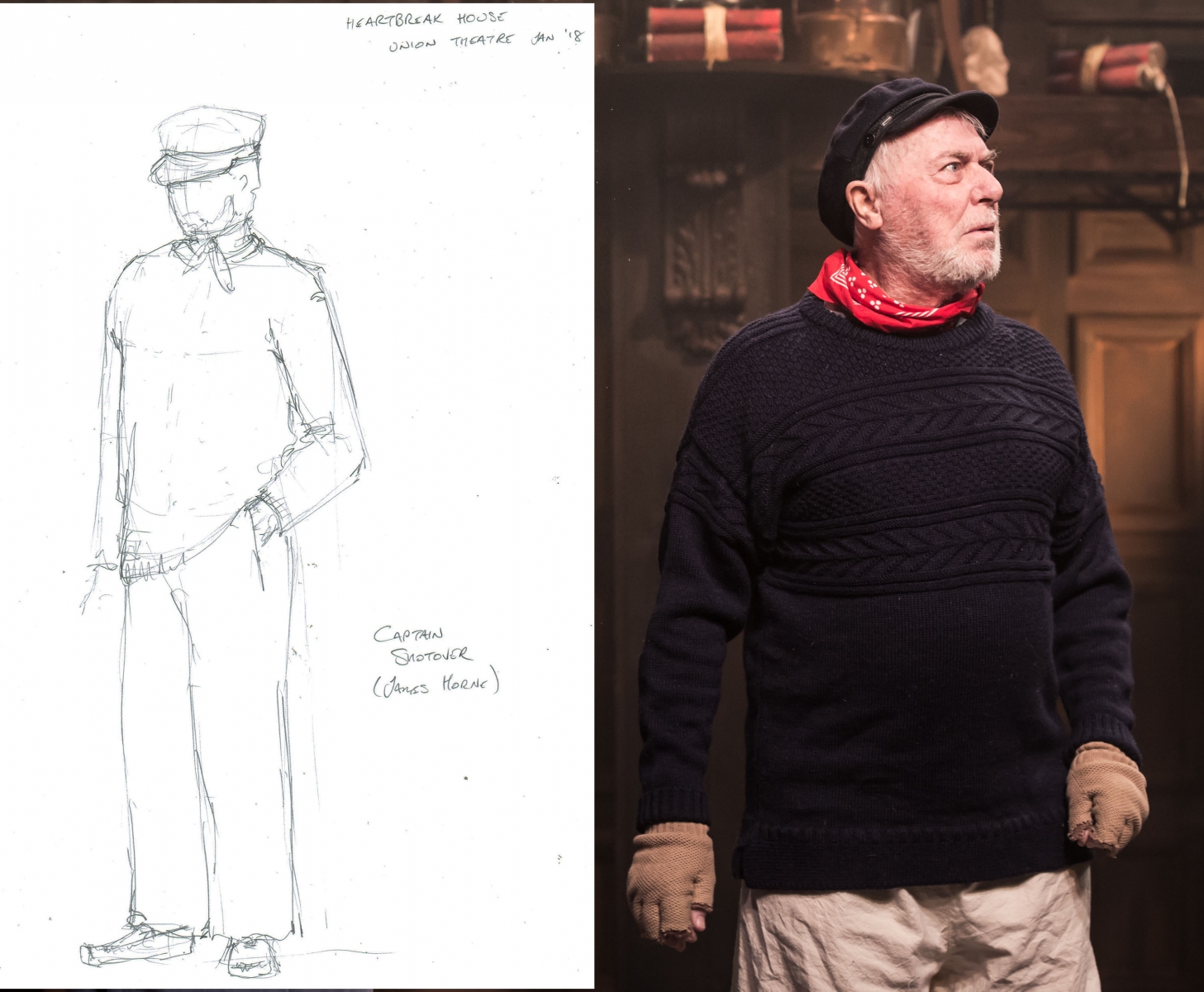 James Horne as loveably grumpy Captain Shotover: Hat from stock, neckerchief borrowed from my father, gloves James' own, sweater bought & trousers made especially.
Francesca Burgoyne as the dreadful Lady Utterward: Dress from Days of Grace just needed the lace neckline adding, plus a little fitting (I say "a little", but poor Fran spent simply ages modelling for me whilst I weilded the safety pins). Mat Betteridge channelling Lord Flashheart as Hector: all from stock bar the jodphurs borrowed from Days of Grace.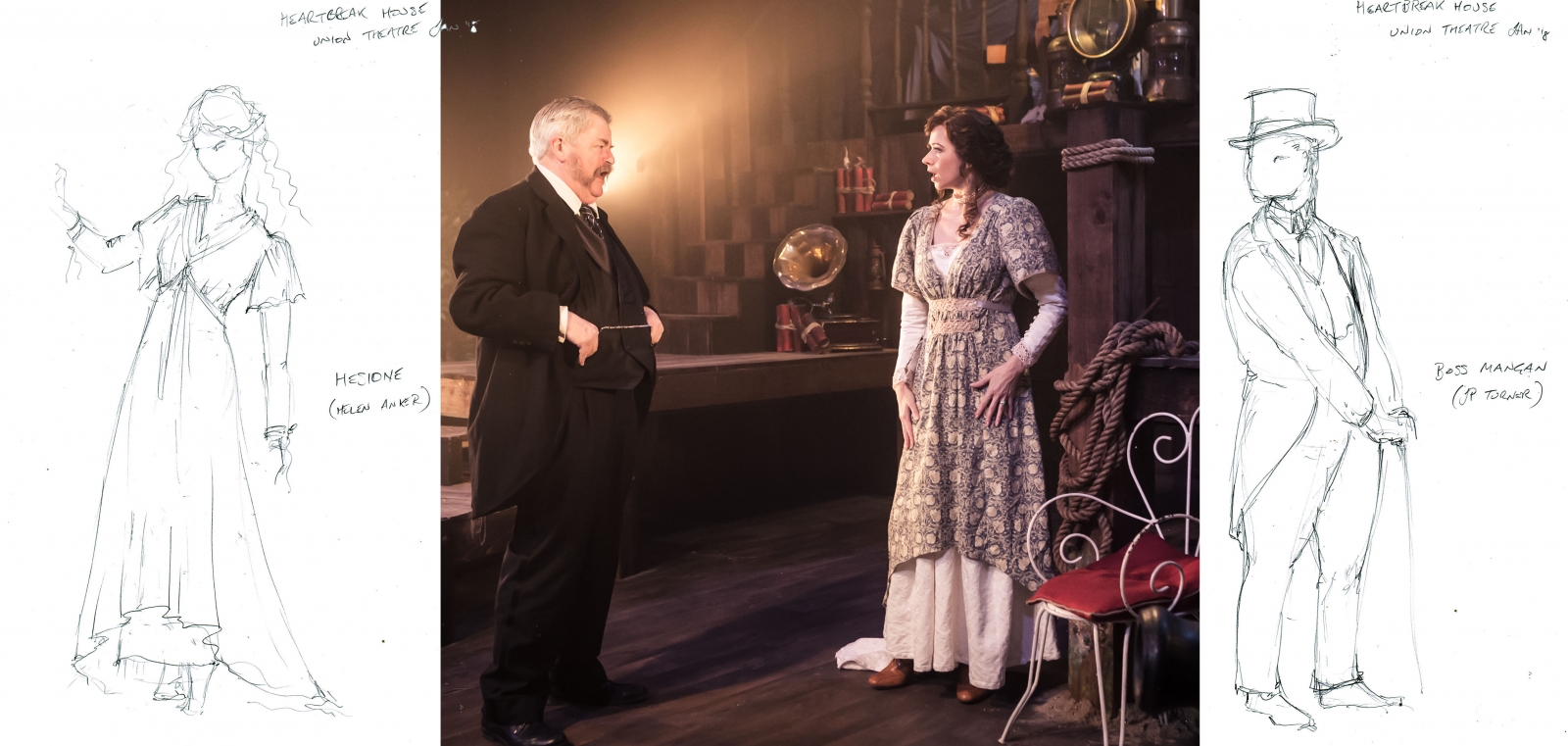 JPTurner as the forthright Boss Mangan in a suit from my stock. Helen Anker as the terribly Bohemian Hesione in an outfit entirely made-to-order and the most splendid pair of boots, found in a charity shop in Wells. The dress is constructed from a damask wedding dress (Days of Grace again) providing underskirt, sleeves and neckline insert, with an overdress made of William Morris print cotton and vintage lace trim, adapted from a 1970s Vogue sundress pattern.
And to give you an idea of the overall look: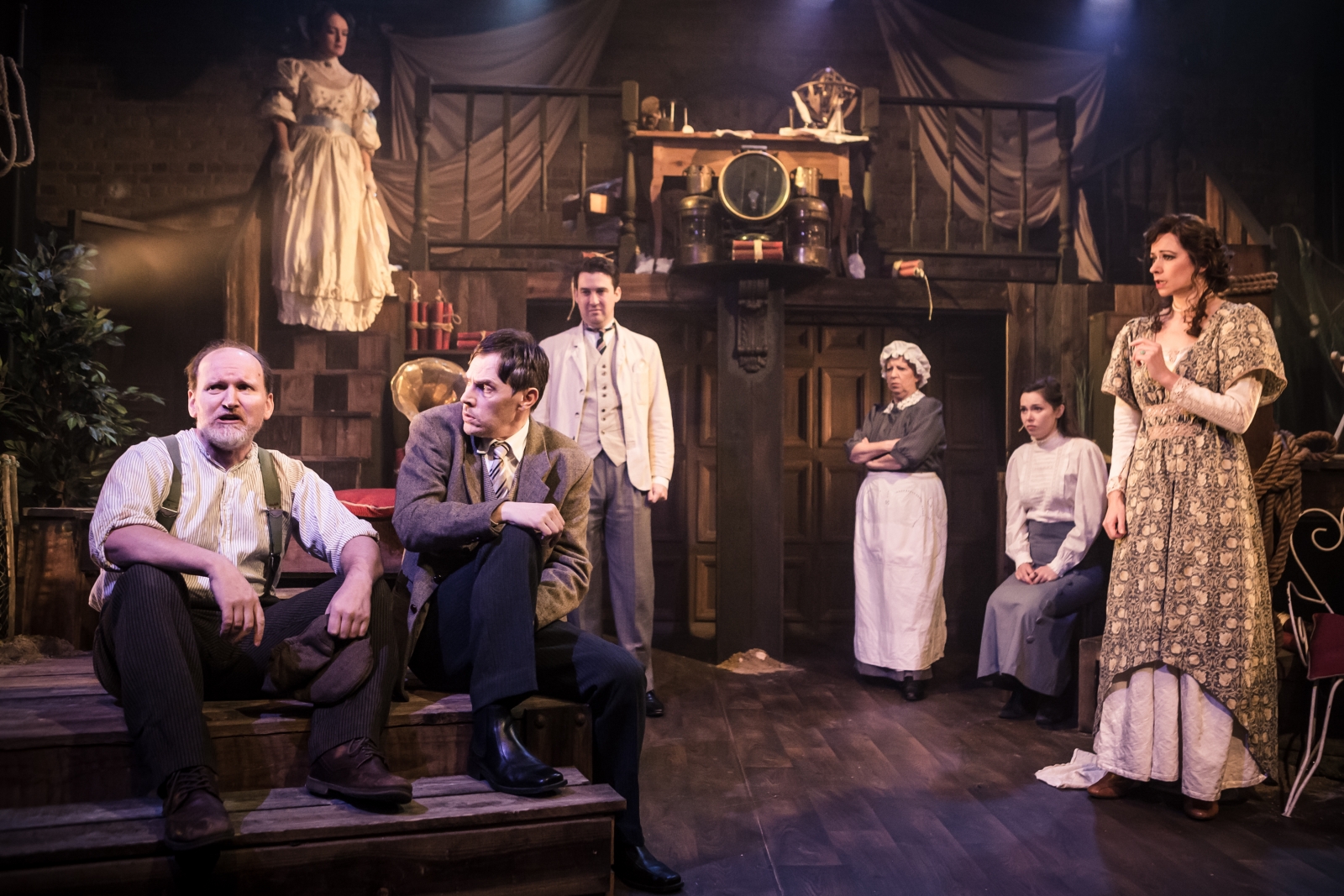 (Production photos of "Heartbreak House" at the Union Theatre, London all courtesy of Scott Rylander. Set by Justin Williams & Jonny Rust) )
Next up is a musical adaptation of "Carmen", set in Goya's Spain - so I am off to bury myself in Napoleonic uniform and seductive gypsies. They should make for a pretty production - watch this space!